Our Team and Clients Testimonials
Accounting & Consulting Pros for Business Owners
- over 100 years of combined accounting & consulting expertise -
Our pro advisors hold professional designations that include: CB, CFP, CLU, CPA, EA, with expertise in taxes (business & personal) accounting / retirement planning / estate planning / venture funding / investing / asset protection / law (business & personal) / real estate sales, purchase, managing, and corporate relocation.
Members of our pro consulting team have worked with and consulted for such companies as Merrill Lynch, CitiBank, Bank of America, AT&T, Norwest Mortgage, Countrywide Mortgage, JH Tax Services, Commonwealth Corp, Coastal Funding, Berkshire Hathaway, and other successful, though smaller, less heralded firms, and some pro athletes including some NFL Hall of Famers.
Rick with Fran Tarkenton - NFL Hall of Famer in Fran's Office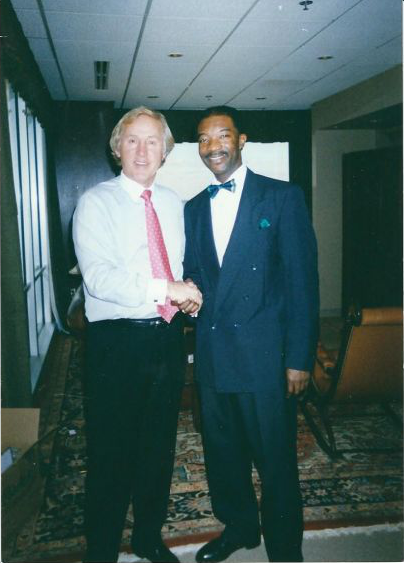 We can also come to your office or your home to work for you

| | | |
| --- | --- | --- |
We are positioned and able to serve all areas and all businesses.
Contact us @ (877) 488 -TABS [8227] or Email us @ BizHelpers@IASpros.net
Client Testimonials of appreciation for our Award-Winning service
We contacted you guys for a income tax problem. You provided just what we needed to put my mind at rest and take care of the situation. – AF
__________________________________________________________________________________________________
I'm happy to write about my experience of going from owing $4,000 in taxes before switching to you and now getting back $9,000. The other tax people didn't understand real estate taxes and deductions in multiple states like you did. I'm so glad we switched to you and your company! – CS
______________________________________________________________________________________
I'm writing about a real estate deal in Atlanta though I live in Richmond now. I faxed the contract. They advised me about the GA and Richmond real estate laws and advised me what to do. I received thousands from the deal. – TC
__________________________________________________________________________________________________
Thank you for taking time to address our Career Success School on clientele building. You continue to be one of our leaders in the region and the entire territory. - RB, Vice President, National Fortune 500 Financial Services company
______________________________________________________________________________________________
Congratulations on another tremendous season! Your client surveys consistently rate you high in the areas of knowledge and professionalism. You truly are among the best of the best! – KM, National Accounting firm Vice President
_________________________________________________________________________________________________________
We have used IAS for years...first for their real estate services. Then for our personal taxes. Then they helped me set up my business and have been doing my business taxes since. – SM
______________________________________________________________________________________
Wonderful work! Those [corporate] taxes were a big weight off our shoulders. – VC
______________________________________________________________________________________
Thank you for your effort, commitment, and dedication to serving our clients and getting them the maximum refund they deserve. We couldn't have done it without you! – CEO of National Tax Services Company
__________________________________________________________________________________________________________
Over the years I have referred Rick to business owners, associates, and corporate executives. Not once has the feedback been anything but favorable. I even invited him to speak to our executive management team to share with us his services. In all my dealings with him I have found him to be professional, helpful, reliable, and personable. – LM, Chamber of Commerce President
__________________________________________________________________________________________________________
Thank you, Thank you, Thank you…You may never know how very much appreciated you are. – CP
__________________________________________________________________________________________________________
GP College invited Rick Paul of IAS to provide a series of workshops to students and business owners in our Corporate Education program. All in attendance walked away with a keener awareness of how [the topics] impact our businesses and our personal finances. – FF, VP of Corporate Education, GP College
_________________________________________________________________________________________________________
CSU brought tax & data consultant Mr. Rick Paul in for a few semesters to educate business owners and students on financial and legal issues facing businesses and business owners. He did a great job and every class gave him high evaluations. – AC, Director of Corporate Training
__________________________________________________________________________________________________________
For some years we have had Mr. Paul come out and teach our business classes about taxes as a business owner or contractor, deductions, incorporations, record keeping, and more. He makes it fun and beneficial. They always love him which is why we keep bringing him back. – LW, Director, Cosmetology College
__________________________________________________________________________________________________________
Congratulations! For another successful season you have received exceptional survey ratings by dozens of your customers. Among other things they rated you excellent in being knowledgeable, professional, and helpful. You are truly among the best of the best. – National Accounting firm Vice President
_______________________________________________________________________________________
We have used Independent Accounting & Consulting for years. We used their real estate loan services when we moved from California to Georgia. Then our personal taxes. Then they set up my LLC and have been doing my business taxes. – CT
_____________________________________________________________________________________
In my position as Personnel Officer under the Governor it has always been a pleasure to bring in Rick Paul on some of our community projects because of his competence, reliability, and attitude. Rick was always knowledgeable, thorough, and businesslike. In many cases he went out of his way to assist us. – WT
__________________________________________________________________________________________________________
Thank you, Thank you, Thank you…You may never know how very much appreciated you are. – CP
______________________________________________________________________________________
I had the privilege of speaking with your representative Mr. Rick Paul who was very knowledgeable, professional, and helpful. If all your employees are as professional as Mr. Paul it certainly says a lot about your company. - DJP, Member of Congress/House of Representatives
_________________________________________________________________________________________________________
Mr. Boland was quite impressed with the manner in which you presented your company's products and services. That alone should help your position with the Department of Administrative Services. Plesae be assured that we will continue to provide access to you snd the company you represent in the future. - DB, Assistant Director, State Lottery Commission
_________________________________________________________________________________________________________
Thanks a million for your amazing stress-free tax services! Your knowledge and professionalism are second to none! We are very grateful for your expert tax advice and business guidance. – AC
_________________________________________________________________________________________________________
We met with you yesterday at your office. We appreciate your professionalism and have decided to make you our tax preparer for years going forward. - D&GW
_______________________________________________________________________________________________________
Thanks so much to all of you wonderful clients for your kind words, trust, and referrals. As we've told you for years, our clients are our most treasured assets. We consider it our privilege and our business to help you grow and protect your profits and your business ~ Rick & all the IAS team Accountants, Consultants, and Trainers